Art Works
Physis's Garden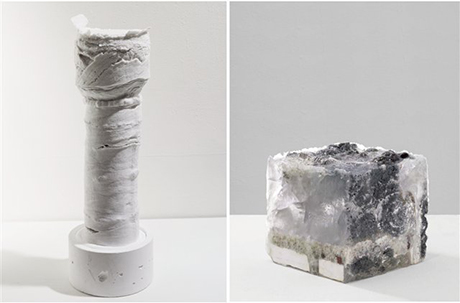 Physis's Garden / ピュシスの庭
Jan 21-Feb 18,2017
東京画廊BTAP
Participated in [Kano Tomohiro | Kojiro Yosiaki Exhibition]
held at 'Tokyo Gallery' Tokyo, Japan
【ピュシスの庭】 社会と自然の狭間で
ギリシャ語のphysisは、生まれる、生じるという動詞から派生し、自ずと生じたもの一般を意味します。
人工の慣習や規則であるnomosに対する定義であり 、自然対社会という対概念は古代ギリシャ哲学によるもので、ピュシスは人間が介入しえない世界という意味での自然を意味し、これに対するノモスは、習慣や法律など、人間が人為的につくりだしたものを意味する。
宇宙、地球、天然資源、植物、動物、人間は自然(じねん)であり、 道徳、宗教、芸術、法、政治、経済、教育等は、社会である。
実は現在我々が生きている世界は「無為自然」NoControlの世界である。
今こそ「自然」じねんを再認識する段階にあり、ありのままの姿、どう生きるかを、人の力を越えた所に探し求めている。
English

The Garden of Physis: Between Society and Nature

The Greek word physis is derived from the verb to be born or arise and means that which occurred naturally. It is the counterpart concept to nomos, meaning artifactual convenance or rules. The idea of nature versus society is from ancient Greek philosophy, where physis means nature in the sense of a world in which humans cannot intervene, and nomos, in contrast, means artificial creation by humanity, such as customs and laws.
The universe, the earth, natural resources, plants, animals, and human beings are nature (jinen), and morality, religion, art, law, politics, economics, and education are society. The world we live in today is a world of "no control". We are now at the stage of rediscovering "nature" (jinen), searching for how to live as natural beings, looking for answers in the realm beyond the reach of humankind.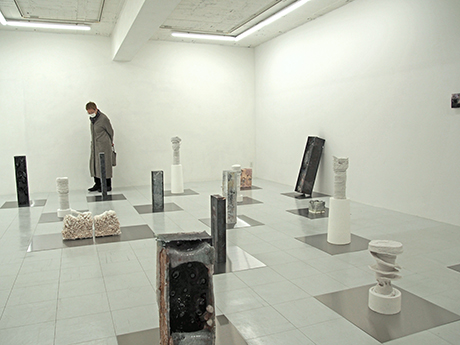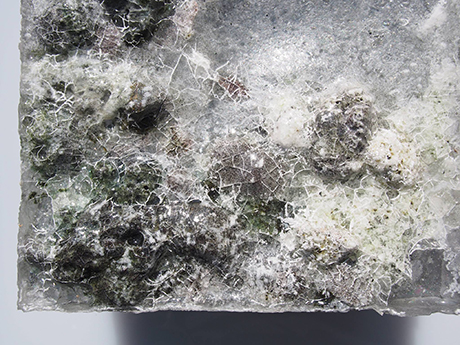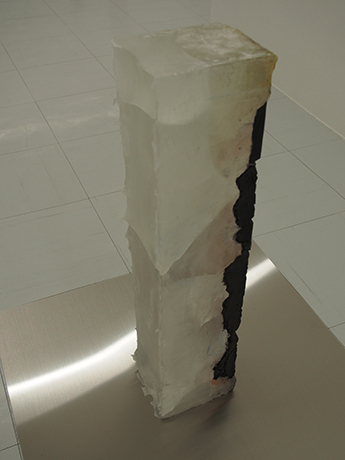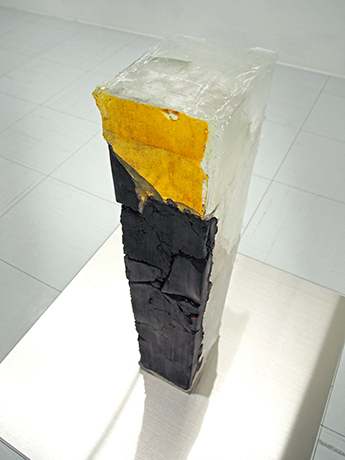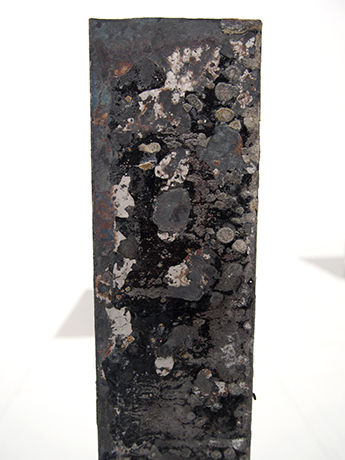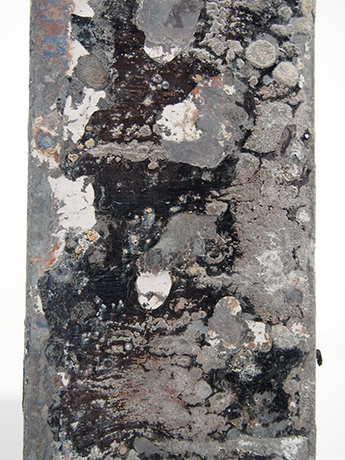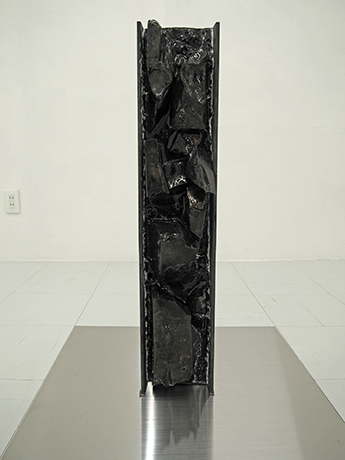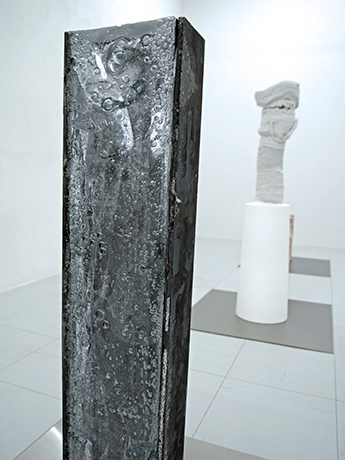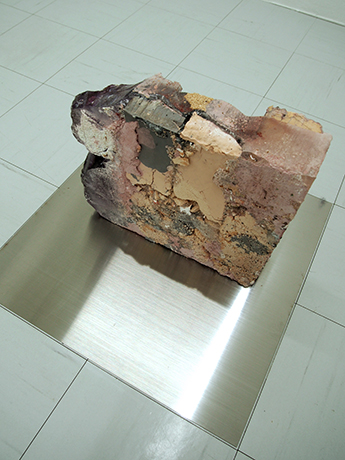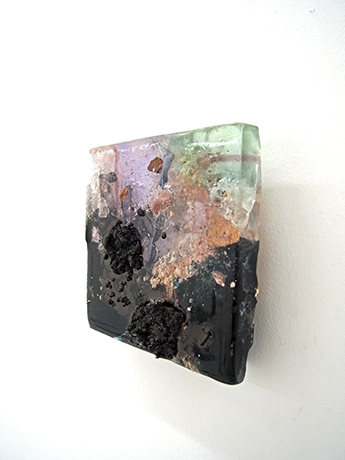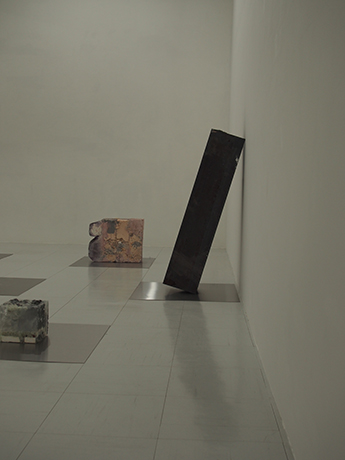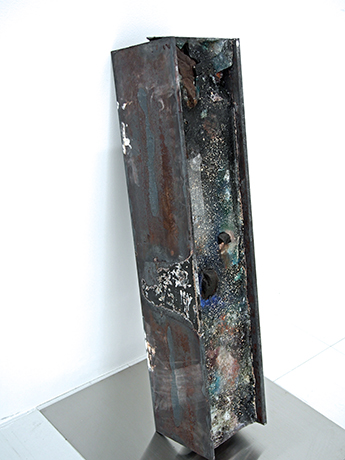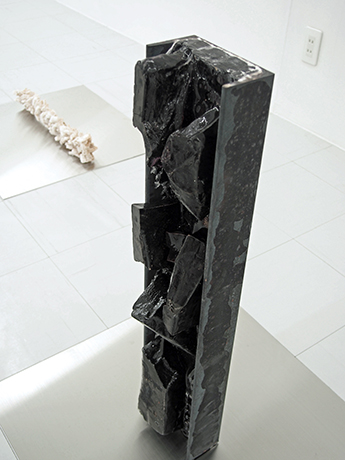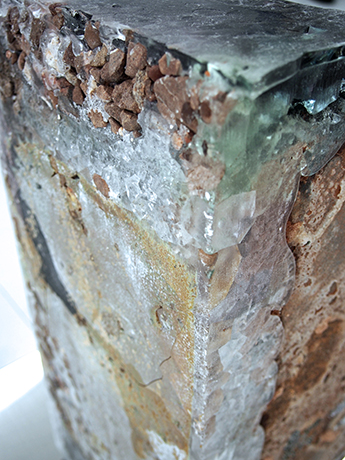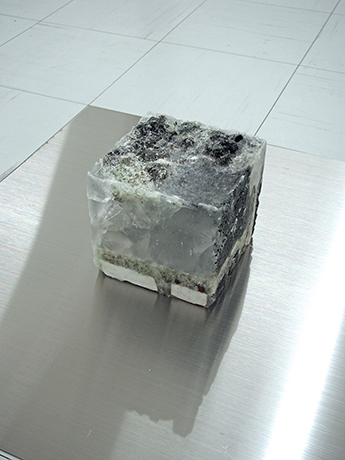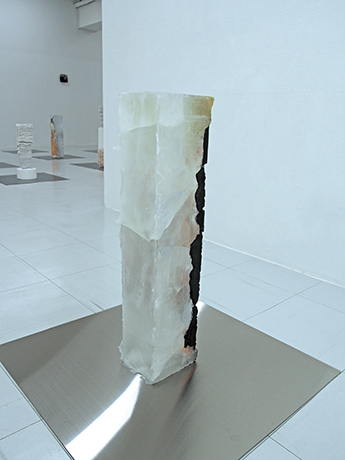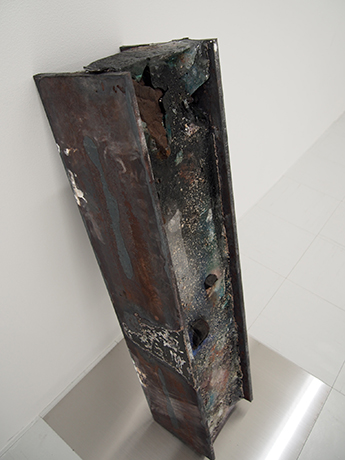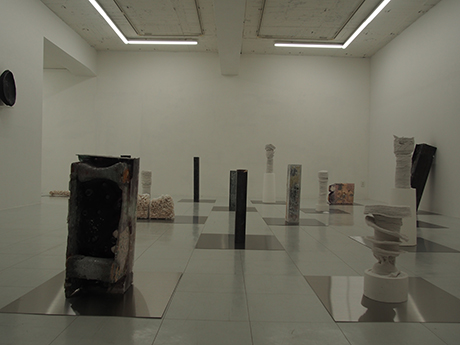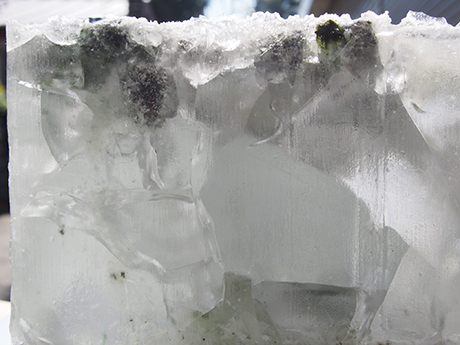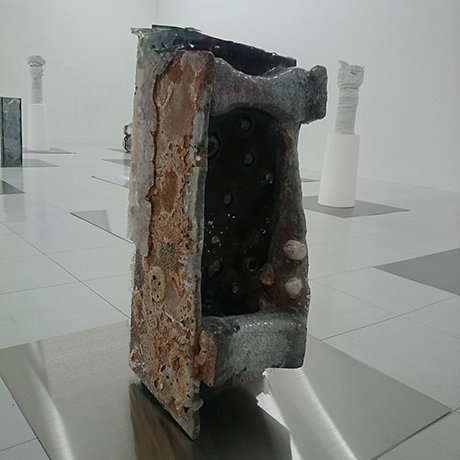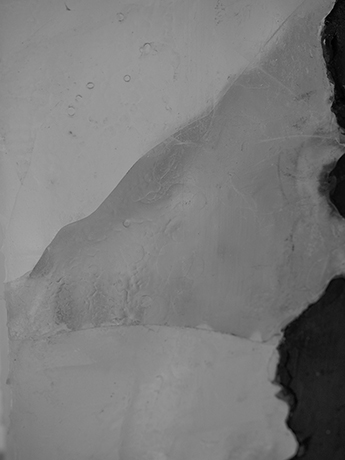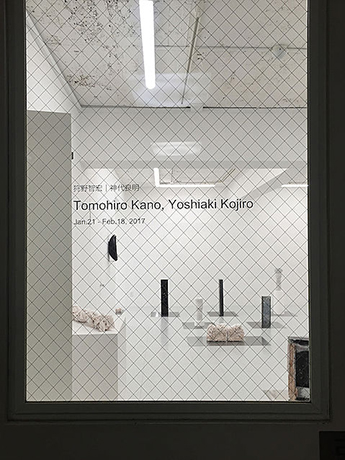 「ピュシスの庭」に寄せて
現在、我々の認識する「自然」は西洋化された意味に於いての「自然」の意味にとらえがちな傾向があるので、日本人の本来の自然の概念をきちんと捉え直す必要がある。
そもそも明治時代に輸入された、西洋の概念にあらゆるものが置き換えられ、あらゆる分野の認識を誤っています。
明治時代の翻訳は、mountain-山、river-川のように、西洋語の意味と日本語の意味とが1対1に対応するものと、対応しないものとがあった。
対応しないものと言うのは、その西洋語の概念が日本語に存在しないということである。
そこで日本人は新語を誕生させることになった。
その新語の造語方法には3通りの方法があった。
(1)新造語-日本語に西洋語の概念が存在しないので、日本人が新しく造語したもの。
  <例>individual-個人 honey moon-新婚旅行 philosophy-哲学 science-科学 time-時間、 工藝もcraftと訳された。
(2)日本語に西洋語の概念が存在しないので、中国語で活躍した欧米人宣教師が中国語訳した訳語を、漢訳洋書や英華辞典から借用したもの。
  <例>love-恋愛 telegram-電報などがある。
(3)転用語-日本語に西洋語の概念が存在しないので、日本語に存在する類義語に新しい意味を付加して転用したもの。
  <例>century-世紀 common sence-常識 home-家庭 このような新訳の一語一語の成立過程は、飛田良文 著「明治生まれの日本語訳」(淡交社 2002)に詳しい。
私のテーマである自然を見てみよう。
しぜん【自然】
人間をも含めて、因果的必然の世界、物体界。
(1)人為が加わっていない、あるがままの状態、現象、天地万物。
(2)(1)の意味より、山、海など、人工物の少ない環境、自然環境。
(3)(2)の意味より、人間を除く自然物及び生物全般。
(4)(3)の意味より、ヒトも含めた天地・宇宙の万物。
(5)人災に対置した天災、あるいは人工造成物に対置した天然造成物を考えた場合の、それらを引き起こす主体。
(6)意識(意図)しない行動、不思議さ、不可思議さを含むと思われる可能性がない事。
じねん【自然】
(1)人為が加わらないこと。本来そうであること。
   おのずからそうであること。ひとりでにそうなること。
  「-としみ込んで来る光線の暖かみ(あたたかみ)」(漱石・門)
(2)仏語。人為を離れて法の本性としてそうなること。
(3)少しも人為の加わらないこと。天然のままであること。
西洋的、またはキリスト教的世界観のなかで育まれた「自然」は、人間が制御すべきであり、天地創造をした唯一神としての神からその役割を人間が委ねられていっるというような、
人間中心の考え方がある。
英語的では「nature」であるが、私達の四季の変化もあった古くからの、現在の神道成立以前にもアミニズムや自然崇拝などの古神道かあり、
森羅万象に神々や霊性を重ね合わせていて、人間はそれらを制する立場ではなかった。
西洋的な考え方の、そのような自然環境は人間に対立するものであり、自分たちの都合の良いように改造出来るものと考えてきた。
その結果、地球の温暖化や砂漠化、水や大気の汚染など様々な問題を起こした。
どれもこれも人間のエゴが原因である。
人間は自然を支配しようとするが、自然は人間の支配の対象ではない。
太陽の天照大神を筆頭に、八百万の神とおびただしい神様たちが、自然現象の神として拝まれてきたことを、この厳しい四季の変化や自然現象に神を見て、
日本人はそれらを理論や科学を越えて体感的、感覚的に捉えてきた。
仏教や西洋の宇宙観が輸入された後も、それらは古来の宗教観と常に融合され、独自の文化や芸術を育んできました。
自然(じねん)の空間に何らかの生命を感じていたことは、目に見えない霊や魂を崇めていたことからも理解できる。
じねんは、全ての響きであり共振、共鳴、調和である。
人間は自然を越えた存在ではなく自然(じねん)の一部である。
その人間が思い上がって科学技術を駆使して自然を破壊し続けている。
今こそ我々は西洋の概念でない「じねん」の認識を新たにしてビジョンを立て直すべき時だと思う。
全てが宇宙の法則であり、我々の住む地球で、自然により創造される時代に移行する時である。
2017年1月21日 狩野智宏
English

Regarding [The Garden of Physis]

At present, we tend to define "nature" from the Westernized perspective, and therefore it is necessary to recapture the original Japanese concept of nature properly. To begin with, Western perception imported in the Meiji era replaced everything and misperceived in all areas.
Some translations in the Meiji era, such as mountain-山(yama), and river-川(kawa), had a one-to-one correspondence between Western and Japanese definition, while others did not. When I say "no correspondence", I mean that the Western language concept did not exist in the Japanese language. So the Japanese decided to create new terminologies.
There were three ways to invent a new word: (1) neologisms: the Japanese coined a new term because the concept of Western words did not exist in the Japanese language. <example> individual-個人 (kojin), honeymoon-新婚旅行 (shinkon ryoko), philosophy-哲学 (tetsugaku), science-科学 (kagaku), time-時間 (jikan), and craft was translated to 工藝 (kogei). (2) Application of Chinese translation: Since the concept of Western languages did not exist in Japanese, Western words translated into Chinese in Western books and English-Chinese dictionaries by the Western missionaries who were active in China were borrowed and applied. <example> love-恋愛 (ren-ai), telegram-電報 (denpo), etc. (3) Diversions: Since the concept of Western languages did not exist in Japanese, similar words in the Japanese language were applied, with supplementation of new meanings.<example> century-世紀 (Seiki), common sense-常識 (joshiki), home-家庭 (katei)
The formation of each word in the new translation is explained in detail in "Japanese Translation in Meiji Era" by Tobita Yoshifumi (published by Tankosha 2002). Let's take a look at my theme, nature. [Nature] The world of causal necessity, the world of objects, including human beings. (1) The phenomenon of all things in existence in their natural state, without any human intervention. (2) Deriving from the meaning of (1) the natural environment with limited artificial objects, such as mountains and oceans. (3) Deriving from the definition of (2), natural objects and living beings in general, excluding humanity. (4) From the description of (3), it is all that exists in the universe and on heaven and earth, including humans. (5) Natural disasters as opposed to human-generated disasters, or biological structures as opposed to artificial structures, and the entity that brings them about to existence. (6) The unconscious (unintended) action that the possibility of wonder or mystery is not present. [Jinen] (1) That which is there with no human intention. That which is inherently so. That which is naturally so. To be so spontaneously. "The warmth of the rays that seep in" (Soseki, Mon) (2) Buddhist language. To become so as the true nature of the Dharma, apart from human action. (3) To be without the slightest bit of human intervention. To remain innate.
Regarding "Nature" nurtured in the Western or Christian perspective, human beings are to be in control of it, which is the role entrusted to them by God, who is the sole creator of heaven and earth. It is an anthropocentric way of thinking. In English mentality, it is "nature" but for us living with turning seasons from the dawn of history, there were ancient Shinto beliefs, such as Animism and nature worship, even before establishing the current Shinto religion. We reflected and saw gods and spirituality in all that is in existence, and humans were not in a position to conquer them. In the Western mentality, the natural environment was thought to work against humans and should be modified to suit human needs. As a result, various problems, global warming, desertification, water, and air pollution have occurred. The human ego causes all of these. Humans try to control nature, but we can not control it. The Japanese people have been worshipping eight million gods, and many more as the gods of natural phenomena, with Amaterasu, the Sun goddess, as the leader of all diety. Seeing God in every changing seasons, the Japanese people have perceived gods empirically and sensibly, beyond theory and science. Even after importing Buddhism and Western cosmology, the Japanese people have always merged the new concepts with ancient religious beliefs to develop and nurture their own unique culture and art. They felt the existence of the entity in the realm of Jinen (nature) could be understood from the point that they worshipped invisible spirits and souls. Jinen is the vibration, resonance, and harmony of everything. Humanity is not beyond nature but is part of it (jinen). Humans with hubris continue to destroy the natural environment with science and technology.
Now is the time for us to renew our understanding of the concept of "Jinen", which is not a Western concept, and to reconstruct our vision. It is time to change over into an era where we respect everything created by nature and pertain to the universe's law on our planet we live.
21 January 2017 Tomohiro Kano